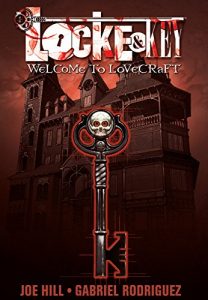 Locke and Key Vol. 1: Welcome to Lovecraft by Joe Hill and Gabriel Rodríguez
Format: Graphic Novel
Who it's for: Adults
The Locke family are keepers of magic keys that can do amazing things. The keys are kept safe in the Locke ancestral home of Keyhouse, by a rule that only innocent children can discover their magic, and forget it once they become corruptible adults. A malevolent creature called Dodge seeks the keys for nefarious purposes and the only thing standing between Dodge and those evil machinations are the current Locke children: teenagers Tyler and Kinsey, and their younger sibling Bode.
This is just the beginning of a six volume saga that is part horror, part fantasy, and part family drama. The Locke and Key series is great for any fans of Stranger Things, It, Twin Peaks, or H.P. Lovecraft. The books do feature scenes of violence, gore, abuse, and addiction, so I would only recommend them to adults, or mature teens. The series is also available on audio, with a stellar cast of voice actors, sound effects, and a haunting score. Find Locke and Key in our catalog