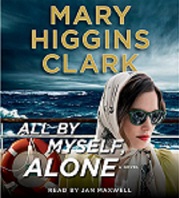 All By Myself, Alone by Mary Higgins Clark
Format: Digital Audiobook
Who it's for: Adults
I often do a fair amount of travelling to see family and my favorite thing to do while on a long drive is play a good mystery audiobook. I enjoy the pace of Agatha Christie's Poirot novels and this book was able to satisfy my need for a pleasant mystery! We follow married couple Alvirah and Willy Meehan who are recently wealthy lottery winners on a luxury cruise. The Meehan's investigate the mysterious death of a fellow passenger in possession of an emerald necklace that once belonged to Cleopatra. Clark tells the story with a fun ensemble of colorful characters including a Gemologist, Celia Kilbride, and Shakespeare Professor, Ted Cavanaugh. With the death of a passenger, a missing necklace, and a man overboard, this luxury liner turns out to be more excitement than the passengers were expecting!