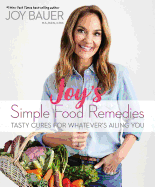 Title: Joy's Simple Food Remedies: Tasty Cures for Whatever's Ailing You by Joy Bauer
Format: Book
Who it's for: Adults
The purpose of this book is to offer healthy food suggestions to alleviate the distress of everyday common ailments.  Each chapter addresses a complaint and gives a detailed explanation of what causes it and how to combat it.  Five foods are highlighted that can offer relief, and the science of each and why it can help is explained.  Recipes for each food follows, with clear instructions and excellent photographs. There are sixty recipes designed to help with aches and pains, increase energy, and reduce anxiety and stress.
Joy Bauer is a well-known leading health authority.  She is a nutrition consultant for the Today Show, Woman's Day magazine, and the New York City Ballet.  She has written twelve best-selling books.