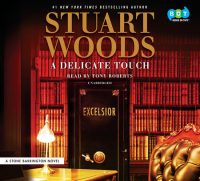 A Delicate Touch by Stuart Woods
Format:  Audio book
Who's it for:  Adults
Be on the lookout for a new audio release on December 31, 2018!
Stuart Woods has a new novel! Stone Barrington has been approached by an old acquaintance to solve a puzzle.  The solution to a part of the problem will blow the lid open on a decades old scandal involving many prominent New Yorkers who would prefer the past stay buried.  Stone Barrington has to weigh his options.  Should he play it safe to the detriment of others, or see justice done and risk fatal exposure?  Listen to this new title read by Tony Roberts, available on CD December 31st.
Find it in the catalog.