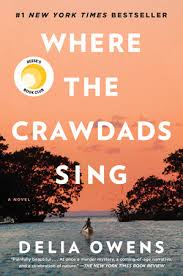 Where the Crawdads Sing  by Delia Owens
Format:  Book, Audio, Ebook
Who it's for:  Adults
This is Delia Owens's debut novel.  It is the story of a young woman abandoned at age ten to survive alone in the coastal marsh of Barkley Cove, North Carolina.  Kya Clark is known as the "Marsh Girl" to residents of Barkley Cove.  Kya lives barefoot and wild.  She is friends with the gulls and very astute to nature and the environment in which she lives.  She has the skills to survive in the wild, but she is not prepared for the relationships of polite society.
In 1969, handsome Chase Andrews is found dead.  Local residents immediately suspect the Marsh Girl.  Rumor has it that Kya has been seen with Chase Andrews.  But could this wild girl be in a relationship with the wealthy Chase Andrews?  After all, Chase is a married man.
As the story unfolds, we learn about Kya's childhood, her ability to survive on her own, her kindness and caring for nature, and her first encounters with friendship and love.  Could this wildly beautiful girl, who only ever attended one day of school be capable of violence?
Owens has written a heartbreaking coming-of-age story, and a mysterious tale of possible murder.  You will be mesmerized until the end.