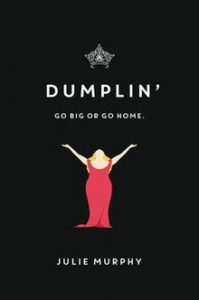 Dumplin' by Julie Murphy
Format: Book, Audio Book
Whose it for: Adults and Teens
Willowdean Dixon introduces self as "cashier, Dolly Parton enthusiast, and resident fat girl."  She doesn't consider her weight and stature to be a nuisance as some might think. "I mean, if it were 1642, my wide birthing hips would be worth many cows or something." But in Clover City, Texas, football stars and beauty pageant queens reign supreme. Despite this, Will (nicknamed 'Dumplin' by her former beauty queen mom) has never struggled to love herself and her body… until she meets Bo Larson aka "Peach Butt" whose attention and affection give Will a whole new sense of self-doubt.  This insecurity is amplified when her best friend, Ellen, makes new "twiggy" friends, who make no secret of what they think of Will, her weight, and her friendship with Ellen.  In order to regain her confidence, Will does the most horrifying thing she can imagine: entering the Miss Teen Blue Bonnet beauty pageant.  Motivated by Will's bravery, some other unlikely candidates join the cause and gain help from a few unconventional sources.
This book focuses mainly on the theme of body image, but touches on relationships, family life, and grief.  Dumplin', though adorable and hilarious, teaches about body positivity and self-love, not only for the ample-bodied, but for anyone who views themselves as an obstacle rather than an asset. Find it in the catalog.