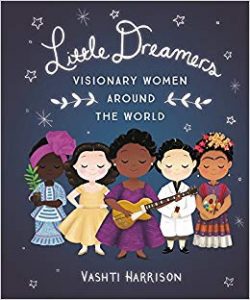 Little Dreamers: Visionary Women Around the World by Vashti Harrison
Format: Book
Who it's for: Kids
Little Dreamers is a collection of true stories about the women creators, inventors, scientists, artists, and thinkers who changed the world with their ideas. From computer programmer Ada Lovelace to activist Wangari Maathai, this book tells the inspirational tales of those women whom perhaps were previously left out of history's spotlight. The contributions of these women had profound influence in their respective cultures and ultimately helped to shape our world as we know it today.
The recognition given to each of these women's accomplishments is presented by Vashti Harrison in a format that is both informative and succinct which would appeal well to the younger, targeted age group. However, I do believe that this could be an enjoyable book for readers of all ages. Harrison's stories paired with her charming illustrations create a visually appealing timeline; one can flip through the book noting the distinct changes to the illustrations for each woman. While each woman is artistically rendered to represent her unique self, there is a standard stylistic format the author uses for her illustrations which implies that these women are of a strong and singular power. I found this book important because it reminds young audiences us that even the visionary, trail-blazing women of history were all once little dreamers, who dared to dream big.