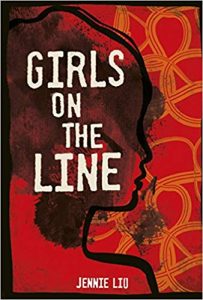 Girls on the Line by Jennie Liu
Publication Date: November 1, 2018
Format: Book
Who it's for: Teens
Violating Family Planning regulations by having a child out of wedlock sounds like something from a dystopian novel. In China, it is the reality for millions.
Luli has aged out of the orphanage at 16 and is forced into the world of adulthood. She connects with her friend Yun who aged out of the system the year before. Yun helps Luli to get a job at the factory where she works and promises to show her the ropes. Yun is energetic and precarious, spending her money on eating out with her friends, going to clubs, and spending time with her older boyfriend. Luli is shy, saves her money, and hopes to one day have a family. Luli soon hears the rumors about Yun's boyfriend. He sells off young girls and women to men in the countryside, he is a bride trafficker. Yun refuses to believe these rumors and finds herself in a position that seems inescapable. She is pregnant with Yun's child and doesn't have the money to abide by the Family Planning regulations; get an abortion, or pay the fines for having a child outside of marriage. Luli wants to help her friend, but can she?
Yun and Luli live in a culture where superstition and appearances are vital to success in life. These beliefs impact personal relationships and employment prospects. Add to that the government's Family Planning regulations, and life can be incredibly difficult for women in this culture. The harrowing experiences of these two young women leads them on a journey of self-discovery, selflessness, sorrow, and friendship that is worth reading about.