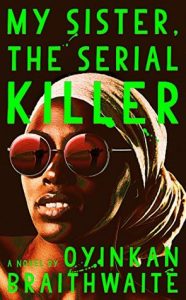 Recommended Book
My Sister, the Serial Killer by  Oyinkan Braithwaite
Publication/Release Date: November 20, 2018
Format: Book or ebook
Who it's for: Adults
Below is the publisher's blurb. I'd suggest only reading this much of it. It gives away too much of the story, IMHO. I picked this book based solely on the cover, title, and the author's name.
Satire meets slasher in this short, darkly funny hand grenade of a novel about a Nigerian woman whose younger sister has a very inconvenient habit of killing her boyfriends.

"Femi makes three, you know. Three and they label you a serial killer."

Korede is bitter. How could she not be? Her sister, Ayoola, is many things: the favorite child, the beautiful one, possibly sociopathic. And now Ayoola's third boyfriend in a row is dead. Korede's practicality is the sisters' saving grace. She knows the best solutions for cleaning. -Publisher's blurb
I read an Advanced Review Copy ebook from NetGalley. We call them ARC's. If you subscribe to different services or get on publishers' lists, you can receive ARC's of books to review before they are released. It's pretty cool. (NetGalley is a site where book reviewers and other professional readers can read books before they are published, in e-galley or digital galley form. Members register for free and can request review copies or be invited to review by the publisher).
I am not sure how to comment on this without giving anything away. Basically, I really like it even though I don't like any of the characters in the book. Although I can't really tell they are in Africa, I was glad it was a novel written by an African woman.  I was disappointed about that part. This story reads like any other story of a place I have never been in the USA; except for a few words (that I hope will have definitions in the finished publication), the traffic police, and a mention of a chief. As I read, I thought they must be in Nigeria because that is where the author lives but I never could recall the name of the city. Since it's a great character driven story, not much detail about the city/country where they live.
Korede is the older sister who enables Ayoola, her younger spoiled sister (as does the entire world cuz she is just that pretty). Right off the bat, I am not that sympathetic to either of the sisters. Korede cuz she complains bitterly about Ayoola but says nothing and keeps enabling.  Ayoola cuz she is a killer and a spoiled brat. Yet I really liked this book. It was quite thrilling in some parts and the other parts were equally fascinating.  I did read parts out of order. The chapters titled Father intrigued me. I had a theory about his death and wanted to see if I was correct. I also read ahead because I wanted to know if Ayoola killed Korede's crush. It's a short read so I had already read a third of the book by the time I skipped around. It was a great, fun read. I hope she writes more and that they get published/released in the USA as well.