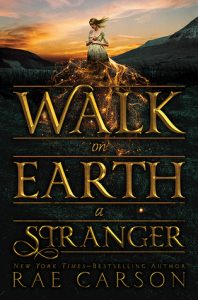 Title: Walk on Earth a Stranger by Rae Carson
Format: Book
Who's it For: Teens and Adults
Leah Westfall is able to sense the location of gold. In 1847, Leah's secret ability is a blessing for her family. However, when her parents are murdered for their stash of gold, it becomes a curse. What is an orphaned fifteen-year old to do? Hacking off her long braid and donning men's clothes, Leah, now "Lee," flees on her trusty horse, Peony. Her best friend, Jefferson, who is half Irish and half Indian, has already headed off for the Gold Rush. Will Lee be able to catch up with Jeff? And will the murderer catch up with her?
I enjoyed this historical fiction with a fantasy twist.  Although it is a work of fiction, this story was true to its setting.  Through Lee, the reader experiences travel in the Old West, from flatboat to covered wagon.  Socially, the story is also accurate.  Lee is frustrated when she realizes that on the trail, she is allowed to hunt for food and wrangle cattle as a man but is relegated to washing the family laundry as a woman.  Also on the wagon trail, Jeff, as a "half breed,"  often suffers snide racial comments from fellow travelers.  The varied characters in this tale, from feisty Lee to the German immigrant Hoffmans, to the rough wagon train cowboys, enhance the rich tapestry of the tale as well as the time period.
The good news is that this is just the first book in the Gold Seer series!
Are you intrigued? Please check out this enjoyable tale of family, friends, budding romance, and life in the Old West!