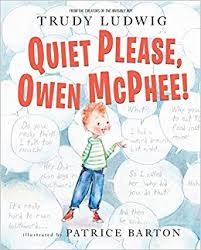 Quiet Please, Owen McPhee! by Trudy Ludwig
Format: Book
Who it's For: Kids
"We have two ears and one mouth so we can listen twice as much as we speak" Epictetus.
Owen McPhee talks too much. WAY too much, according to his friends, his teachers and his hound dog Hannah! He talks so much that it gets in the way of his listening, with pretty serious consequences for his friends and their science projects… But the next day Owen wakes up with LARYNGITIS! No voice? No TALKING?? What's a super-chatty kid to do? Read on and see how Owen deals with his laryngitis and learns something about listening and friendship in the process. Make sure to check out Owen's calendar on the very last page! There are even questions in the back for further discussion with your own chatty ones.