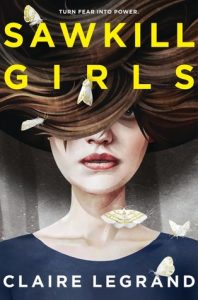 Sawkill Girls by Claire Legrand
Format: Book
Who it's For: Teens
"Beware of the woods and the dark, dank deep. He'll follow you home and won't let you sleep…"
23 girls have disappeared from Sawkill Rock when Marion moves to the island with her mother and beautiful sister. 23 girls, and no one has any idea what happened to Zoey's best friend Thora. 23 girls, and Val is hiding a nasty secret that could tear her apart from the inside out.
This young adult horror story follows three girls as they discover the terrifying secrets that are hidden on their island and if there is truth to Sawkill's whispered ghost stories.
Sawkill Girls is a great book for those who want a dark, creepy read without the threat of nightmares afterward. Legrand merges the horror and fantasy genres seamlessly to create a story that is absolutely mesmerizing from beginning to end. The story twists from average high school drama, to a complete nightmare, and then back again in a mesmerizing way. She pushes you to the brink of terror and then pulls you back before it becomes too much to handle.
Marion, Zoey and Val are three imperfect, sometimes unlikable, characters that portray strength and ferocity in the face of loss and terror. The idea that strong female friendships can conquer even the most disturbing events is present throughout and creates a fierce girl power message that elevates the book from a good horror story to an inspiring and timely novel.