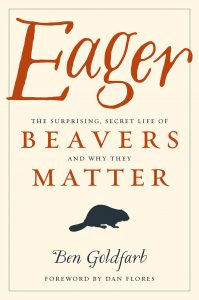 Eager: The Surprising, Secret Life of Beavers and Why They Matter by Ben Goldfarb
Format: Book
Who it's for: Adults
Ben Goldfarb is that rare breed of science writer who could probably turn a dishwasher manual into a page-turner…but let him loose with an already-intriguing topic like the beaver, and he'll deliver a book that's an absolute pleasure to read. In Eager, Goldfarb unveils beavers' profound influence on the landscape of North America.
Our waterways behaved very differently when the beaver, fluvial geomorphologist extraordinaire, had the run of the continent. Beavers nearly disappeared from the land by the mid-1800s, largely due to trapping for their pelts. The sudden dearth of beavers was a calamity for biodiversity and water availability, particularly in the arid West. Eager reveals this unexpected history while showcasing the efforts of a diverse (and entertaining) army of "Beaver Believers" who work to restore our continent's largest rodent.