Year One by Nora Roberts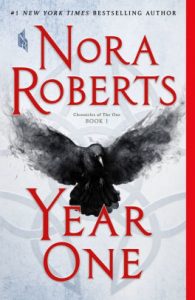 Audio Book                         
Who its for: Adults
Lana and Max live in a New York apartment. They are learning how to practice and manage the magic they have discovered they possess. Their passionate relationship and practice of "witch craft" is emerging and evolving when the plaque began.
The virus hit on New Year's Eve taking out almost 80 percent of the human population within a matter of weeks and months. Survivors must figure out how to live. Where to go to be safe. How to manage survival in the post-apocalyptic city, where a new magical paradigm exists and how to get out.
They along with some of the others who did not succumb to the plaque have made it out of the dangerous cities where much evil and bad magic is in control. The appearance of varied sets of magical abilities in a large part of the surviving population can be good or evil.
Along the way, Max and Lana eventually form a band with others like them, looking for refuge and a new place to live. Eventually they come upon a place where a new beginning is underway.
Lana is carrying Max's child who she learns early on has magical abilities, and a special destiny.
After an attack on their new community, Lana realizes that she and her unborn child are hunted. She must find sanctuary away from the community, which eventually comes in the form of a remote farm.
This fast-paced thought provoking novel will keep you enthralled where survival, human kindness and evil exist along with magical abilities. Where good people combat evil.