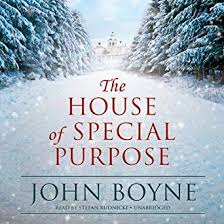 The House of Special Purpose by John Boyne
Format: Audiobook
Who it's for:  Adults
The House of Special Purpose is an historical novel set in the early to mid-20th century.  Georgy Jachmenev is an old man reminiscing on his former life when he was a youth in Russia.  He lives with his wife Zoya in England.  Georgy's father, a tenant farmer, is inexplicably abusive to him.  As a teen, Georgy is witness to an event that takes place which precipitates his move to Saint Petersburg, the palace of the czar.  Czar Nicholas II and his wife, Empress Alexandra, have four daughters and a son.  Georgy is brought to the palace to live with the royal family as a companion to the son, young Alexei who was born with hemophilia.  He requires strict governance to prevent injury that could cause internal bleeding.  The story is set in the 1970's but flashes back to the early 1900's in Russia.  In the end, the true meaning of the house of special purpose is revealed.
The story is narrated by award-winning Stephan Rudnicki who does an excellent job speaking with a Russian accent.