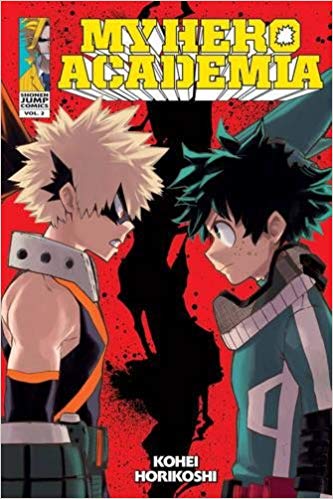 My Hero Academia
Format: YA Graphic Novel
Who it's for: Teens and Adults
Attention all heroes in training! There's only one manga to read if you want to see a new take on the superhero genre. My Hero Academia is the tale of a world where 80% of the world develop powers, known as quirks. Ranging from super strength, to fire powers, to…..being a frog. Our protagonist is Izuku Midoriya, nickname Deku, one of the limited number of people born without a quirk, and thus is mocked for his desire to become a hero. But everything changes after a fateful encounter with the number one hero, and idol of young Midoriya, All-Might. This 9 foot, American oriented hero is the hero of the masses, but hold a fateful secret that Deku soon learns, giving him his chance in order to ascend the ranks and join the prestigious hero academy UA.
From here we're treated to a delightful assortment of classmates and heros who are just trying to navigate high school life while also occasionally (ok, very often) fighting off villains and even worse, homework! One of the best elements is the growth of the characters in this series, where the ideals of self-sacrifice are examined, and what it means to the future, as well as learning from your mistakes and growing from them. Of particular note is Bakugo, the prodigy childhood friend of Deku turned school bully until fate finds them even ground, shaking Bakugo's perspective and forcing him to grow as a result.
Overall, I've found My Hero to be a fantastic love letter to American superhero comics while still taking it's own spin on the subject. It's great for Teens and Adults, if you're looking at it for younger readers, there's enough language and action to recommend you to first take a read through to see if it's right for them. My Hero has also spawned a fantastic anime series and their first movie is actually about to hit our shelves so there's never been a better time to check it out, Plus Ultra!