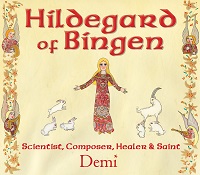 Hildegard of Bingen: Scientist, Composer, Healer, and Saint by Demi
Publication Date: April 7, 2019
Who it's for: Kids
Hildegard of Bingen was born in 1098, and she was one of the most remarkable and influential women of her time. Blessed with an astonishing array of talents, Hildegard was a mystic, theologian, scientist, doctor, nutritionist, composer, writer, linguist, and artist. Popes and kings, as well as humble peasants, sought her wise counsel. Today, Hildegard of Bingen is recognized as a saint and doctor by the Catholic Church and is  revered by many Lutherans and other Protestants. Find out more about her life in this beautifully illustrated book by award-winning author, Demi.
Find it in the catalog
Find more  illustrated biographies by Demi