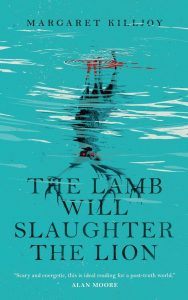 The Lamb Will Slaughter the Lion by Margaret Killjoy
Format: Book
Who it's for: Adults
Danielle Cain's best friend has suddenly, and without explanation, killed himself. She's distraught, and she wants answers. She travels to her friend's last known whereabouts: Freedom, Iowa, to discover a commune of individuals like herself: free spirits, artists, outcasts, punks… and spell casters?
It appears the residents of Freedom have summoned an otherworldly being, a red deer with three antlers, to protect their home, but now it's turned upon them, with deadly consequences. Magic is real, people are in danger, and somewhere in all of this may lie the answers to Danielle's questions about her friend's suicide.
This book is filled with mystery, suspense, and interesting characters. I found it intriguing and difficult to put down, having never read anything like it before. I recommend it to adult or mature teen readers who are looking for something unique to read, and if you like it there is a sequel! Find this book in our catalog