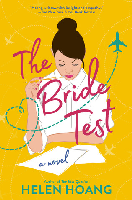 The Bride Test by Helen Hoang
Release Date: May 07, 2019
Format: Book
Who it's for: Adults
The Bride Test is the much anticipated follow-up to Hoang's debut novel The Kiss Quotient. The Bride Test features Khai Diep, a 26-year-old living with autism, and Esme Tran, the woman his mother has selected from Vietnam to be his future wife. As Khai struggles to understand his emotions and Esme battles her insecurities, the pair embark on a journey of companionship. What makes this novel unique is that Hoang, the author, was diagnosed with autism spectrum disorder in 2016, and Hoang's father also has autism. Additionally, the character Esme was inspired by Hoang's mother who immigrated to the United States. Hoang's writing reflects those experiences, and she creates characters that are realistic and believable. She delves into sensory processing issues, as well as the stigma associated with being an immigrant. The result is an affectionate romance novel that will leave readers wanting more. Find it in the catalog.