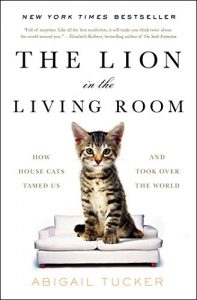 The Lion in the Living Room: How House Cats Tamed Us and Took Over The World by Abigail Tucker
Who it's for: Adults
Format: Book
What have cats ever done for humans? They don't provide food, they aren't pack animals, they don't protect our homes. So why are there nearly 100 million house cats in the US alone (and almost a billion worldwide)? In this well-researched and fascinating book, Abigail Tucker explores the history of the house cat, an animal that adapted to humans and essentially domesticated itself.
Unlike dogs and other domesticated animals, house cats haven't physically evolved over the centuries. They are built to survive outdoors on their own, but they can also survive in a small apartment if necessary. They have, however, evolved their behaviors to influence us. Cats share some facial characteristics with human babies (round heads, front-facing eyes, small nose), and they've learned to use familiar sounds to get our attention. Many house cats have purrs and meows that sound suspiciously like a baby's cry.
Tucker also addresses the impact cats have on environments around the world. Cats are hypercarnivorous and they do quite a bit of damage to ecosystems. Over the centuries, cats have been transported to new environments regularly, and they often destroy them by preying on native species. Yet we continue to live side by side with them, watch videos of them online, and follow them on Instagram.