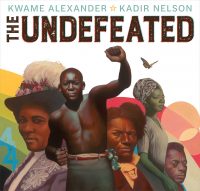 The Undefeated by Kwame Alexander
Format: Book
Who's it for: Everyone
This Newbery Award-winning author has written a gripping and moving poem to honor Black American life, both their triumphs and their troubles. The stunning illustrations, drawn by Kadir Nelson, pull the reader into the further by creating haunting and captivating atmospheres. There are portraits of famous, history makers, as well as depictions of the horrors committed against African Americans.
This is a beautiful, thought provoking book that also brings hope and joy. Find it in the catalog.