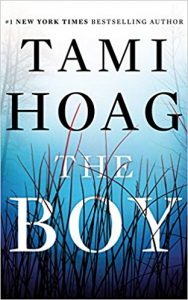 The Boy by Tami Hoag
Format: Audiobook – read by Hillary Huber
Who's It For:  Adults
This is a twisted, tangled and unthinkable story.  A seven-year old boy is found stabbed to death in his own bed.  As if that isn't bad enough, the inexplicable situation is compounded when his 12-year old babysitter vanishes.  It seems there are suspects everywhere.  Did his own Mom kill him?  She said she was just down the hall from her little boy and tried to get to him to help, but couldn't get there in time – why was she left alive?  Where is his babysitter?  Did the babysitter kill him?  Who is his Father?  Did he kill him?  What about the next door neighbor drug dealer?  Did he do it?
The husband and wife detective team of Nick Fourcade and Annie Broussard have their work cut out for them trying to decipher the truth and find the real killer in their small town of Bayou Breaux. Find it in the catalog