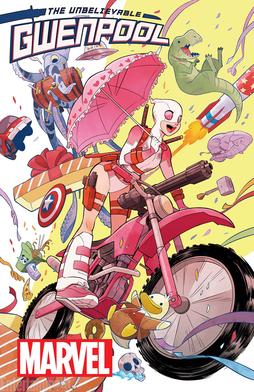 The Unbelievable Gwenpool
Format: YA Graphic Novel
Who it's for: Teens and Adults
Gwen O' Poole finds herself living in the wonderful world of Marvel comics. And of course she has powers, because who doesn't have powers or cool gadgets or- "What do you mean she doesn't have any of that?" So the newly dubbed Gwenpool uses the only tools at her disposal to save/ruin the day, knowledge of how the comics usually turn out. Getting chased by bad guys on a rooftop? There's a convenient mattress truck to jump into. Tough poorly written bad guy? She knows just what to say to give him depth and turn him sympathetic to her. Giant head in a chair trying to kill her? Well that one might take some work but she's got ideas, and friends! Even the threat of cancellation isn't enough for her to stop bringing the hijinks. A fun ensemble cast of characters, followed by a number of cameo heroes as is custom, combined with the wonderful writing creates a truly memorable series that doesn't wear out its welcome. The writing by Christopher Hastings combines meta humour about how comics work as well as just some heartbreaking moments thrown in to mix up the pace. The art is absolutely charming as well, with absolutely delightful covers in each of the volumes that are a treat to look at. Take a look between the panels and find Gwenpool on a library shelf near you!