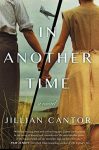 In Another Time by Jillian Cantor
Format: Book
Who's it For: Adults
"Where am I?" Hannalie Ginsberg awoke in a deserted field one starry night.  She clutched her precious violin to her chest.  "Where's Max?"  The last thing she remembered, Hanna was playing her violin for Max in his workshop.  Hanna stumbled along until she came upon a church.  "It's unlocked!"  Hanna quietly entered.  "Hello?"  When no one replied, Hanna curled up on a pew and succumbed to the familiarity of slumber.
The gentle hand of a nun, Sister Louisa, roused her later.  "Where am I?" asked Hanna.  "What?  My Germany's been at war?  Hitler's dead?"  After Sister Louisa drove Hanna to Berlin, a doctor diagnosed  her with "dissociative memory loss."  Her memory of the past ten years was gone!  Hannah phoned her sister Julia who'd moved with her family to London before the war.  "I'm not dead!"  She phoned Max's friends, Johann and Elsa.  They only knew that Max had left to find Hanna.  Hanna joined Julia in London.  She had her violin.  She had her family.  Now where was Max?
I was very moved by this poignant tale of romance set in two different times. Max described how he met Hanna, the girl who played the violin with fire, before the war.  He wooed her with books from his bookshop.  Hanna described her life after the war, her quest to find Max.  Although Hanna was Jewish and Max was not, they were united in their love for each other.  Yet Max hid a secret in his bookshop.  Moreover, Max couldn't stop himself from coming to the aid of his Jewish neighbors.  What would Max's secret cost him and Hanna?
It's available as a book or downloadable with Overdrive!