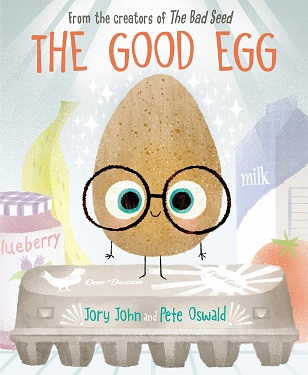 The Good Egg by Jory John, illustrated by Pete Oswald
Publication Date: February 12, 2019
Format: Book
Who it's for: Kids
This is one good egg! Literally. The main character is an egg, and he's very good- the one good egg in a dozen, while the other eggs' behavior is often kind of rotten. The good egg rescues kittens, helps the elderly, cleans up messes, and tries to convince his siblings to be good too. But the pressure of trying so hard to be perfectly good, and trying to change others' behavior, eventually makes the little egg start to crack. It's time for the good egg to take some time for himself. Spending time to relax and try a few new things helps the good egg to learn some important lessons: not to be so hard on others or himself, and that he doesn't have to be perfect to be a good egg.