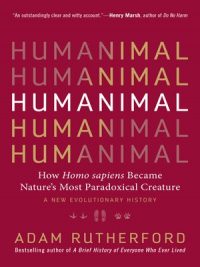 Humanimal: How Homo sapiens Became Nature's Most Paradoxical Creature by Adam Rutherford
Format: Book
Who it's for: Adults
Many of us humans like to believe that we're somehow more, or better, or at least fundamentally different from other sorts of animals. Others contend that no, there's nothing that elevates us above any other creature (other than possibly our egos). Humanimal doesn't campaign for either camp, but explores the evidence on both sides.
The book begins with a comparison of humans' and other animals' practices relating to tool use and to sexual behaviors. It then wends its way through the evolution and current manifestations of several characteristically human features, from our DNA to our languages. Presented in short, topical chapters, Humanimal is a celebration of both our animal nature and our human uniqueness. Find it in the catalog.