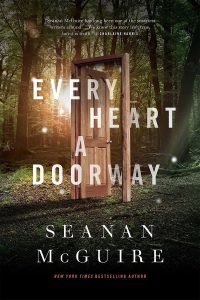 Every Heart a Doorway by Seanan McGuire
Format: Book
Who it's for: Adults, Teens
There are a lot of stories about children unexpectedly finding doorways to other worlds, like Alice in Wonderland, or the Chronicles of Narnia. There are also a lot of stories, sad stories in the news occasionally, about children who disappear without a trace, never to be seen again. What if there was a correlation between these stories? What if children really were stumbling through magical doorways all the time? What if some never return from those worlds, and those that do come back with such fantastic tales, they can only be accepted as fiction?
For those who return from their magical lands, our world, the "real" world, is difficult to re-acclimate to, and for them there is a special school, Eleanor West's Home for Wayward Children, where they can process what happened to them. This is where 17 year old Nancy Whitman finds herself upon returning from the Halls of the Dead. She longs to go back, where the Lord and Lady of the Dead rule over their underworld wisely and justly, while she serves them stilly and silently. She's not alone in hoping to one day find another doorway leading back "home." Though Nancy's found kindred spirits at her new school, all is not well, and when a fellow student turns up dead, an incredible mystery begins to unfold.
I would recommend this to adult or teen readers interested in fantasy, horror, or mystery, but preferably all three, and if you like it, there are more books in the "Wayward Children" series. See Every Heart a Doorway in our catalog.