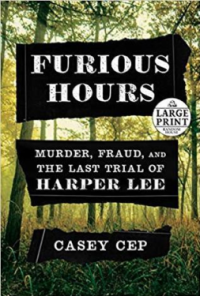 Furious Hours: Murder, Fraud, and the Last Trial of Harper Lee by Casey Cep
Format: Book
Who it's for: Adults
Furious Hours is many things: a historical account of the actions of the "voodoo priest" Reverend Willie J. Maxwell of Coosa County, Alabama; a gripping retelling of the trial of Maxwell's vigilante murderer Robert Burns; an ode to the lawyer that defended them both, Thomas "Big Tom" Radney; and the novel that Harper Lee never finished.
Cep takes readers back to 1970s Alabama to explore a story that made headlines and captivated news audiences across the country. In a span of a few short years, several of Reverend Maxwell's family members and acquaintances died under suspicious circumstances, and Maxwell was left to collect the life insurance payments. Lacking sufficient evidence to explain the deaths, the town suspected Reverend Maxwell was using voodoo to kill his victims. Fed up with living in fear and frustrated by the inability of law enforcement to stop the carnage, Burns shoots Maxwell at the funeral of one of his victims.
After reading about these peculiar events, Harper Lee traveled back to her home state on a quest to write a best-selling, true-crime novel that was rooted in old-fashioned journalism and that steered clear of the "fact-bending" that was popular in non-fiction at the time. But, this novel never made it to press.
In Furious Hours, Cep pieces together the facts that still remain and offers an inside look at Lee during the years following the success of To Kill a Mockingbird.  Cep's novel is informative and well-researched, and she gracefully recaptures the drama of the courtroom. Furious Hours is the debut novel of the Maryland native. Find it in the catalog.