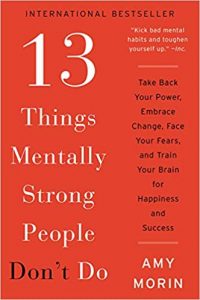 13 Things Mentally Strong People Don't Do by Amy Morin
Format: Book
Who it's for: Adults, Teens
Let's say you're trying to get your body into good physical shape, you might go to the gym and have a long, heavy work out and feel like you're moving in the right direction.  However, if you eat a box of donuts on the way home from the gym then you've just erased all your hard work!
The same thing can happen with our mental health.  There are many very positive things we can do for ourselves like practicing mindfulness, gratitude, or yoga but author Amy Morin points out that we might be sabotaging our best efforts with some bad mental habits.
Do I stress about things I can't control?  Do I try to please everyone? Do I resent other people's success? These are just three out of the thirteen bad mental habits that can drag us down and undermine our happiness.
Check this book out and give your mental health a workout. We can't always change our circumstances but we do have control over our attitude and that can make all the difference!