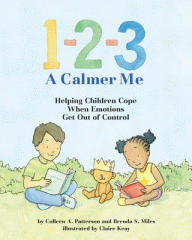 1-2-3-A Calmer Me: Helping Children Cope When Emotions Get Out of Control by Colleen A. Patterson and Brenda S. Miles
Format: Children's Picture Book
Who It's for: Children and Caregivers
In this story, a little girl explains how she can get angry and frustrated sometimes. Like when she loses her balloon in the park. It is OK to get mad, but when you do, you can recite this rhyme.
1-2-3 a calmer me, 1-2-3 I hug me, 1-2-3 relax and b-r-e-a-t-h-e, 1-2-3 a calmer me.
The story introduces children to a simple rhyme they can use to slow down their bodies and stop mad feelings from spinning out of control.
The mantra or rhyme appears several times throughout this picture book whenever the little girl finds herself becoming upset from conflicts with friends, family and even while playing sports.
By memorizing the simple mantra, a child can use it to slow down their immediate reactions and replace them with words that are more comforting. The idea is based on the psychological principles of relaxation and mindfulness.