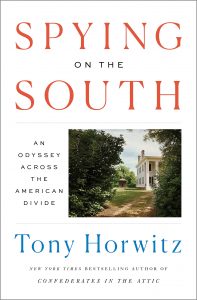 Spying on the South: An Odyssey Across the American Divide by Tony Horwitz
Format: Book, eBook
Who it's for: Adults
In the 1850s, Frederick Law Olmsted (future architect of Central Park and many other landscapes and parks) set out on a journey through the American South as a correspondent for the New York Times, writing about his travels under the pseudonym "Yeoman." Olmsted wrote about the people, places, and cultures he encountered, and later turned his dispatches into three books.
Over 150 years later, Tony Horwitz set out on an Amtrak train to follow Olmsted's path and document what he found. He traveled through western Maryland, West Virginia, Kentucky, Louisiana, and Texas, meeting locals at bars and restaurants, convenience stores, and shops. Horowitz (who passed away in May, just after the publication of Spying on the South) was an easy conversationalist who made most people he met feel at ease in speaking openly about their political, social, religious, and economic thoughts and beliefs. He boarded a coal barge and rode down the Ohio River, visited former plantations now housing museums or wedding venues, rode a mule through part of Texas with a guide seemingly immune to Horwitz's charm, and spent time in a Texas border town. 
Horwitz observed an American South much changed from the one Olmsted saw. Once bustling towns are now characterized by deserted storefronts and an area of Texas once populated with free-thinking, anti-slavery Germans is now home to their more commercially minded descendants, but parallels remain. Throughout his journey, Horwitz encountered divisions similar to those recorded by Olmsted in the antebellum South – "extreme polarization, racial strife, demonizing of the other side, embrace of enflamed opinion over dialogue and debate." Horwitz didn't disparage or belittle the people he met on his journey, even if he ultimately disagreed with them. Every interaction was characterized by his desire to understand what's going on in the hearts and minds of the people of a town or city.
Horwitz ultimately felt optimistic about the future. Spying on the South ends with a discussion of his two days spent wandering Central Park, Olmsted's first urban landscaped park. Olmsted intended his parks to be gathering places that could overcome the barriers thrown up in society. In the park, Horwitz observed people of all races, languages, and socioeconomic statuses enjoying themselves outside of the hustle of New York City. 
Horwitz's work in general is recommended for those who enjoy travelogues and history. In addition to Spying on the South, he is the author of Confederates in the Attic, Blue Latitudes, A Voyage Long and Strange, and Midnight Rising.
Find Spying on the South in the catalog.