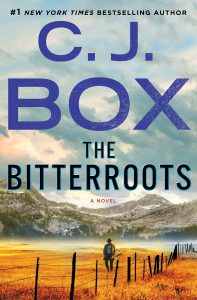 The Bitterroots by C.J. Box
Read by Christina Delaine
Published: August 13, 2019
Audiobook
Adult
This is the 4th in the "Cassie Dewell" book series by C.J. Box.  The first three "The Highway", "Badlands" and "Paradise Valley" proved to be exciting and suspenseful reads.
In this new book, expected out on August 13th, we find former sheriff's investigator Cassie Dewell trying to start over with her own private investigation firm.  Even though she isn't happy about the idea, she has agreed to help an old friend, who is a defense attorney, and who is calling in a favor.  She wants Cassie to help her exonerate a man from an influential family, who is accused of assaulting his 15 year old niece.  Out by the Bitterroot Mountains of Montana, twisted family loyalty runs as deep as the ties to the land, and there's always something more to the story.
Even though it is 4th book in the series, it appears that it is not necessary to have read the previous titles.
I can't wait to see how C. J. Box spins this one!  Sounds like there will be some suspenseful twists to try and figure out!
Find it in the catalog