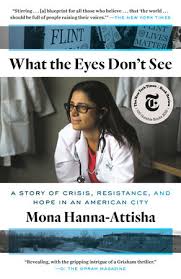 What the Eyes Don't See: A Story of Crisis, Resistance and Hope in an American City
By Mona Hanna-Attisha
Who it's for:  Adults
In 2014, the water source for residents living in the city of Flint, Michigan was switched from Lake Huron and the Detroit River to the Flint River, which was considered less costly.  Residents were immediately concerned that the water smelled and tasted bad, and looked dirty, but public officials continued to say that the water was fine.  In August of 2015, Dr. Mona Hanna-Attisha, a pediatrician and professor at Hurley Medical Center in Flint was informed by a friend that the residents' concerns were well founded.  Not only was the water dirty, it also contained very high levels of lead.  Concerned about her young Flint patients, Dr.  Mona (as she likes to be called) immediately sought out test data which would reveal whether high levels of lead were actually present in the blood tests of these children.
In What the Eyes Don't See, Dr. Mona gives her own account of the crisis.  Armed with data that confirmed high levels of lead were present in the blood of Flint children, Dr. Mona stopped at nothing to get local government to switch the water source and save Flint's children from the devastating, life-long effects of lead poisoning.  She shares stories of her heritage, her belief in activism, her work at Hurley Medical Center, and the small team of supporters who helped her initiate this change.       Find it in our catalog.
What the Eyes Don't See has been chosen as the 2019 One Maryland One Book.  Take some time to read this gripping story as it is shared through discussion and programming throughout the state of Maryland this fall.  Register to join us at the Leonardtown Library for the Director's Book Club on Wednesday, October 16, 2019 at 12:15 p.m..  St. Mary's County Library Director, Michael Blackwell, will host a book discussion of this book.