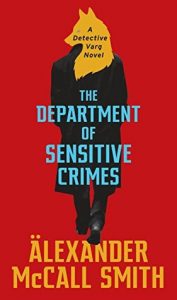 The Department of Sensitive Crimes by Alexander McCall Smith
Who it's for: Adults
Format: Book, eBooks, Audiobook on CD, eAudio
Scandi-noir is big these days – Stieg Larsson, Jo Nesbo, and Peter Hoeg are just a few of the authors known for this crime fiction genre set in any one of the Nordic countries. Scandi-noir is known for being dark, moody, and often grisly. Alexander McCall Smith's newest series about a Swedish police department assigned to investigate crimes that are a bit too quirky for the rest of the police force is a bit of a different take on the genre. The series deals with crime in a Nordic country, but it lacks the bleakness typically associated with Scandi-noir. McCall Smith refers to it as "Scandi-blanc," defined as "Scandinavian crime fiction without much crime and without any bodies."
The cases the title team takes on are strange, but not so bleak and gory as typical Scandi-noir: a man stabbed in the back of the knee and the disappearance of an imaginary boyfriend are just the start. The complicated lives and relationships of Detective Ulf Varg and his team are also explored: Will Ulf and Anna admit their feelings for each other? Will Varg's deaf dog Martin overcome his depression?
Fans of Alexander McCall Smith will enjoy his familiar writing style, while fans of Scandi-noir might just like this tongue-in-cheek play on the genre.
Do you prefer listening to digital audiobooks? The eAudio version of The Department of Sensitive Crimes is only available through RBdigital, so create an account with your St. Mary's County Library card and download the app to get started listening!