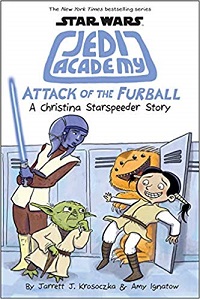 Attack of the Furball: A Christina Starspeeder Story by Jarrett Krosoczka
Release date: September 3, 2019
Format: Book
Who's it for: Kids
Young padawan Christina Starspeeder is having a tough year at the Jedi Academy! She left her younger brother at the lower Jedi Academy back on Coruscant to come to the advanced school on Jedha, where everything is harder. Her classes are harder, the droids are sarcastic, and her mentor, Jedi Master Skia Ro, is demanding. The only good thing is Christina's secret new pet, an adorably fluffy baby nexu she sneaked back from a field trip to planet Cholganna. But cute little Fluffernut is starting to grow… and grow… and GROW! Christina didn't know that nexu grow to be 14 feet long, or that they will chew up almost anything! To make matters worse, a mysterious bounty hunter is trying to steal Fluffernut. Can Christina protect her pet, outwit the bounty hunter, and make things right before she's kicked out of Jedi Academy for good?
Find it in the catalog!
Find all the Jedi Academy books in the catalog!