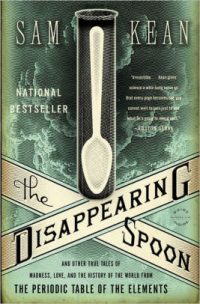 The Disappearing Spoon: And Other True Tales of Madness, Love, and the History of the World from the Periodic Table of the Elements by Sam Kean
Format: Book
Who it's for: Adults and Kids (young readers' edition)
How has beautiful-but-deadly mercury helped us discover the sites where Lewis and Clark camped?
Why is the strong nuclear force like a Tyrannosaurus rex?
What quip by his friend Albert prompted Niels Bohr to reply, "Einstein! Stop telling God what to do"?
The Disappearing Spoon embarks on a journey through the periodic table—but a periodic table far removed from the boring version taught in so many high school chemistry classes. Sam Kean wields a sly sense of humor and a keen eye for human absurdities as he explores forgotten history, quirky science, and the strangeness of the universe.
The author has also published a young readers' edition aimed at middle school students, to ensure that kids can get in the fun as well.
Oh—and that evanescent spoon? Mold it out of gallium (melting point 85 degrees F), give it to your friends for stirring their hot beverages, and savor their consternation as it disintegrates in their cups.
Better living through chemistry, indeed.