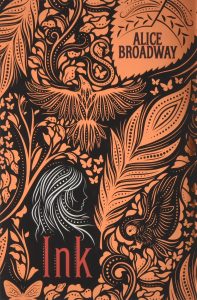 Ink by Alice Broadway
Format: Book, Audiobook
Who it's for: Teens, Adults
Imagine a world where your life story is tattooed on your skin. Leora lives in such a world. In Saintstone, where she lives, all the citizens mark their bodies with their accomplishments. They are marked even at young age. Your name, your occupation, your family tree, your medical history, any great achievement you've earned, any crimes you've committed, all in ink for the world to see. No one in Saintstone has secrets. Or so Leora thinks. When her father dies, his skin is flayed and turned into a book, as is tradition. His book will be "read" at a "weighing of the soul" ceremony, where it will be determined whether he has lived a life worth remembering, and his book will be returned to his family, to be kept on a shelf with the rest of their ancestors, or he will be forgotten, and his book will be burned. Leora is confident her father was a good man, but there's a terrible rumor going around that his book has been edited, and that he, and whoever altered his life story, committed a horrible crime, possibly colluding with the "blanks"—people outside of Saintstone who do not tattoo their bodies, who's life stories are hidden from view. Ink by Alice Broadway, and its sequels Spark and Scar, are original and intriguing stories about family, friendship, rebellion, and redemption. Find Ink in our catalog.