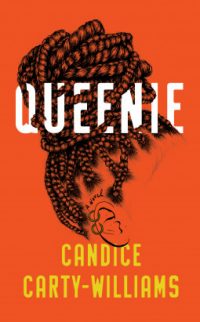 Queenie by Candice Carty-Williams
Format: Book, Audiobook
Who it's for: Adults
Queenie is the debut novel of Candice Carty-Williams, and it tells the story of 25-year-old Queenie Jenkins, a Jamaican British woman living in London. When we meet Queenie, she is moving out of the apartment that she shares with her boyfriend Tom. The two have agreed to go on a "break" and revisit their relationship in three months. This "break" serves as a catalyst for a series of self-destructive decisions that ultimately leave Queenie plagued by panic attacks and unable to live independently.
Carty-Williams uses Queenie as an opportunity to discuss mental health and as an ode to friendship and strong women, and she does this within the confines of a character that is struggling to find her place as a Black female in a world that does not respect Black bodies. At times, Queenie's story seems mundane. But, there is a turning point, when the reader starts to observe that many of Queenie's problems stem from childhood trauma. Thru Queenie, Carty-Williams highlights the PTSD that many underprivileged children experience and the way that PTSD is often mistaken for "bad" behavior.
With a supporting cast of characters that add humor and ease the weight of the novel, Queenie is worth the read. And, Carty-Williams has established herself as an author to watch. That being said, prospective readers should be advised that the novel contains some mature content, and it is recommended for adults only. Find it in the catalog.