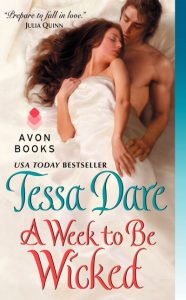 A Week to Be Wicked by Tessa Dare
Format: Book, eBook, Digital Audiobook
Who it's for: Adults
Minerva "Min" Highwood has a problem—she needs to be in Scotland posthaste to present her newest fossil discovery at a geological conference, but as an unmarried woman, she can't make the trip alone. Lord Colin Payne wants to leave the secluded town where they both live, but has no means to do so until he comes into his inheritance on his next birthday. So, what are a scholarly spinster and debonair playboy to do? Why pretend to elope, of course! At the onset of the trip, they both claim no romantic interest in one another whatsoever, but seven long days in extremely close quarters just might change their minds. A Week to Be Wicked is the second installment in Tessa Dare's "Spindle Cove" series and the rest of the books come just as highly recommended.