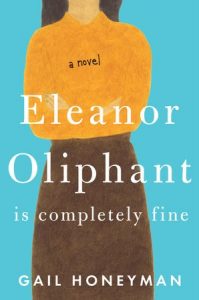 Eleanor Oliphant is Completely Fine by Gail Honeyman
Format: Book (also available in: Ebook, Audiobook, eAudiobook)
Who it's for:  Teens, Adults
Eleanor is almost 30. She works in an office. Everything is completely fine.
Eleanor lives alone. She is considered to be strange. She has no family. She has no friends. She drinks two liters of vodka every weekend. OK, everything may not be completely fine.
How do you respond when asked: 'How are you?' Do you automatically say 'Fine'? This story lets you give some thought to what might be going on behind the word 'fine' and explore social isolation.
Eleanor has a very quirky interpretation of the world around her and this first person narrative lets you see the world through her eyes.  Dry British humor and the other characters in the story make this a fun and interesting read.  Eleanor's background is a bit murky and you get to discover her past along with her.
I read this for my book club and it led to a really great discussion.  There are plans to make it into a movie.