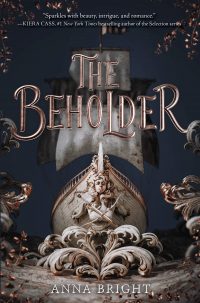 The Beholder by Anna Bright
Format: Book
Who's It For: Teens and Adults
Selah was devastated when Peter publicly rejected her proposal to make him her prince, her husband.  Didn't he know how much she cared for him?  Before her private tears were dried, Selah's stepmother Alessandra, whom she silently dubbed her "smother," had a plan laid out for the Council.   Selah would leave her home and her ailing father.  With a company of protectors and advisors, Selah would set sail across the Atlantic to meet four potential suitors from very different lands.  She had to choose wisely to make a good political alliance.  Would love even be a possibility?  Would Selah ever return home?  Was her dear father dying?  Selah realized the gravity of her pending decision. It would impact her, her family, her country.  And what secrets was her crew hiding about her ship, The Beholder?  Was there more at stake than met the eye?
I enjoyed this historical fantasy.  It often paralleled fairy tales and mythology, such as Cinderella, Snow White, and The Odyssey.  I'm looking forward to its sequel, The Boundless, in 2020!