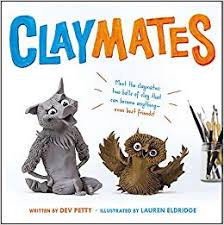 Claymates by Dev Petty, Illustrated by Lauren Eldridge
Format:  Book
Who it's for:  Children
This fun children's book is recommended for younger children.  It is also available as a VOX book, which means that a headphone can be plugged in to it so the child can listen as it is read to them or listen with others without headphones.
Two balls of clay, with eyes, are transformed by the artist into a gray wolf and a brown owl.  The sculptor spends a lot of time creating them to be just perfect and then she leaves the room.  It isn't long until the two creatures become friends and then they start goofing off.  They stretch and pull at themselves to become many other different critters.  They look totally weird, with lots of sculptor's tools sticking out of them.  Suddenly they hear the artist returning.  Oh, no!  What will they do?  They try to fix themselves but they just can't.  Find out what happens next to these two  crazy claymates.  Find it in our catalog.