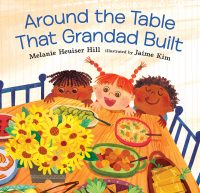 Around the Table that Grandad Built by Melanie Heuiser Hill, illustrated by Jaime Kim
Publication/Release Date: 2019
Format: Book
Who it's for: Kids
Around the Table that Grandad Built is a lovely celebration of family, tradition, memory, and gratitude. In cumulative text along the lines of "The House that Jack Built," a joyful multicultural family prepares to share a special meal. They begin by moving "the table that grandad" built in to the center of the room, then gather "the sunflowers picked by my cousins" and "the napkins sewn by mom." Each item used to set the table is special and treasured. Then comes the food- produce from the family's garden and favorite recipes made with love. When all is ready, the extended family gathers to hold hands and give thanks around the table that Grandad built. This picture book is perfect for Thanksgiving, or any special family celebration!
Find it in the catalog.