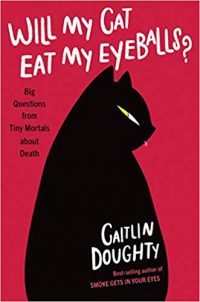 Will My Cat Eat My Eyeballs? Big Questions from Tiny Mortals about Death by Caitlin Doughty
Formats: Book, eBook
Who it's for: Adults and Teens
Ever wonder what happens to people's bodies after they die? Well, so do most kids…and the kids aren't shy about asking those questions out loud!
Caitlin Doughty, founder of The Order of the Good Death and the Ask a Mortician web series, isn't shy about answering them either. Will My Cat Eat My Eyeballs? contains her candid and witty replies to questions ranging from the practical (What would happen if you died on a plane?) to the ultimate practical joke (What would happen if you swallowed a bag of popcorn before you died and were cremated?)
To learn the answer to whether your eyeballs look like tasty morsels to your favorite furry companion after you die, find it in the catalog.