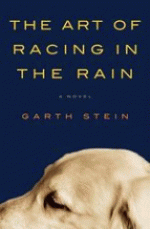 The Art of Racing in the Rain by Garth Stein
Format: Book
Who It's for: Adults and Young Adults
This story is about Denny Swift, a race-car driver and rep. for a BMW dealer in Seattle Washington and his dog Enzo. Told from Enzo's perspective and his belief in the legend that a dog "who is prepared" will be reincarnated in his next life as a human. Enzo also loves watching T.V. documentaries and racing.
Denny adopts Enzo from a farm as a pup. Denny and Enzo begin their journey together where Enzo struggles to hone his humanness and Denny soon meets and marries Eve. Eventually they have a daughter named Zoe. Enzo is devoted to Denny, Eve and Zoe.
Life has many difficulties and sometimes the unthinkable happens. Enzo describes to the reader his life with Denny and his family, the bond he has with each of them and the great struggle they go through when Eve develops brain cancer. In addition, to a surprise and shocking custody struggle of Zoe with Eve's parents and Denny.
Enzo gleans his knowledge through the television shows and documentaries that he watches. He has gained tremendous insight into the human condition, but cannot understand why a dog does not have thumbs. He does his best to communicate with his family even though he cannot talk.
Enzo sees that life, like racing, is not simply about going fast.
This book is one of the best I have ever read. The story told through Enzo's point of view. It is happy, sad, traumatic and charmingly funny.
Find it in our catalog