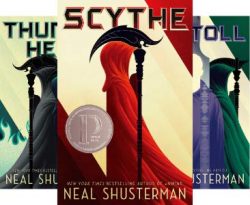 Arc of a Scythe by Neal Shusterman
Format: Book
Who it's for: Teens, Adults
In a distant future, disease, hunger, and war are things of the past – humanity has conquered death. A benevolent AI called the Thunderhead holds all human knowledge, watches over the population (literally), prevents crime, alerts the ambu-drones in case of accidental 'death' (leaving a person 'deadish,' which is reversible), and generally prevents poverty and other issues in society. Scythes have taken on the responsibility of culling the population to sustainable levels. If killed by a Scythe, death is permanent. The only area in which the Thunderhead does not intervene is Scythe business.
Teenagers Citra and Rowan are chosen to apprentice to a Scythe. They are trained to glean compassionately. But there is a new order of Scythes in the Scythedom – those who take pleasure in killing and don't appreciate the restrictions placed on them. The conflict between the traditional Scythes and the new order follows Citra and Rowan throughout the trilogy. The dichotomy between the Scythedom and the Thunderhead is an important angle to the story as well. Another teenager, Grayson, becomes an important part of the Thunderhead's story in the second book.
Citra, Rowan, and Grayson travel around the world over the course of the trilogy, leading to a final confrontation in the Land of Nod between the old order and the new, and the Thunderhead and Scythedom.
For fans of Shusterman's Unwind and Scott Westerfeld's Uglies, or anyone who enjoys a good trilogy (all three books have been released – no waiting years for the next installment)!
Series Order:
Book 1: Scythe
Book 2: Thunderhead
Book 3: The Toll