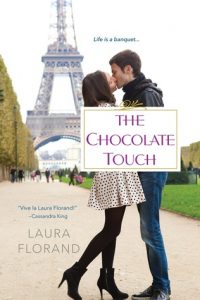 The Chocolate Touch
By Laura Florand
Who it's For: Adults
Dominique Richard is not to be messed with. He is one of the most inventive chocolatiers in all of Paris, and has worked his way up from the very bottom. He has a reputation for being a fierce fighter outside of the kitchen. Dom has very little patience for most Parisians and even less for tourists. They obviously know nothing about chocolate, and would probably be happier with something overly sweet and unimaginative. So when a beautiful American woman comes again and again to his shop, sampling the most experimental delights from Dominique's selection, he can't help but be intrigued. Who is this woman? Why is she drawn to his shop and why is he drawn to her? 
Absolutely lovely writing, a beautiful love story, and gorgeous descriptions of delectable chocolate delights make this book a wonderful treat. You will almost make you feel like you can taste the delicious creations that Dom dreams up in his kitchen. Though only almost, so this book is best read with your chocolate of choice within arms reach.
Find it in the catalog.