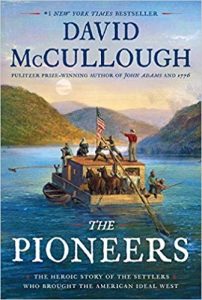 The Pioneers: the Heroic Story of the Settlers Who Brought the American Ideal West by David McCullough
Format: Book
Who it's for:  Adults
This notable book tells the story of the early explorers and pioneers who settled the Ohio River wilderness.  The Ohio River was the main force in opening the west to settlement due to steam boat travel.  It was 1788 when settlers from the New England states bravely set out for unknown adventures and trials.  The five major characters in the story are Manasseh Cutler, his son Ephraim Cutler, Rufus Putnam, Joseph Barker, and Samuel Hildreth.  This hardy group of men (with the exception of Manasseh who planned it) ventured west and overcame much adversity in the wild country that had to be tamed.  The other men, women and children who soon followed had to endure floods, fires, wild animals, and attacks from the native Indians.  In spite of all that happened to them, the people persevered and loved their new home.  It is an adventure story for all who love American history and especially the state of Ohio.
The author, David McCullough, is a Pulitzer Prize winner and National Book Award winner.  His research has been thorough for this book.  His source materials were from the Marietta College Library from which he searched to write his book and is made more interesting with the addition of pictures of newspaper clippings, lithographs, maps and paintings.  Find it in our catalog.