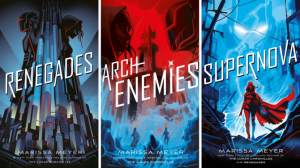 Renegades by Marissa Meyer
Format: Book
Who it's for: Teens, Adults
What if superheroes were real? The Renegades are an organization led by the heroes who saved the world from anarchy, and made up from prodigies who are humans with extraordinary abilities. The Renegades are champions of justice and peace, a symbol of hope and courage to most – just not the 'villains' who they overthrew to gain power.
Nova is a prodigy on a mission for vengeance. The Renegades weren't there for her when she needed them most, and therefore she wants to show the world who they truly are. As she infiltrates the ranks of the Renegades, she learns that not everything is as it seems and that it's hard to paint anyone as all hero or all villain.
Book 1: Renegades
Book 2: Arch Enemies
Book 3: Supernova