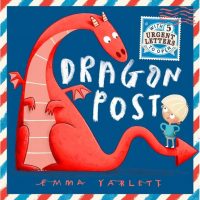 Dragon Post by Emma Yarlett
Format: Book
Who Its For: Children
One day Alex finds a dragon. He's always wanted one (and who hasn't, really?) but being an intelligent and thoughtful boy, he quickly realizes he's a bit over his head in this dragon-rearing adventure. So he reaches out for help with his dragon questions by writing letters to various dragon "experts" and soon receives letters back. Your readers will love opening the mail that Alex receives which are included in the book, and reading the wonderful, quirky replies. Alex follows their helpful instructions as his little friend quickly grows. His kindly experts and friends help Alex to make the best decisions along the way for himself and his dragon. A grand celebration of letter writing, friendship and of course, dragons!